In Memoriam
Robert Eisenstadt | 1942 – 2020
On June 5, 2020, Robert Eisenstadt died peacefully at home, in the loving presence of his sister Nancy and his sister's family. He will be dearly missed by all of us who loved and appreciated him.
If you would like to leave a story about Robert, write a message, or read what others have written, please complete the form below.
Roy Suskin's Tribute
Robert and I spent almost every weekday working together and having lunch for 10 years, and one of the main things he talked about was how proud he was of his 2 nephews and eventually "little Jeanette" and how proud he was that his sister became a "big lawyer at a fancy Chicago firm" and how much he liked and admired his brother in law Walter…. He spoke of his grandfather Morris the plumber, and his father's brothers and how he grew up with Lou Reed and went to Lou Reed's bar mitzvah…
He told me he was a big hiker and camper when he was younger and how he loved the outdoors…
He talked about Sylvia and Karen and how he and I were somehow connected through Sylvia by the marriage of his uncle to my aunt, and someone named Bertram and his various memories and experiences about family. He always talked about his family and clearly thought about them all the time.
His other topics of discussion were:
a) giving up smoking cigars – he would quit 6 times a year and then start up again 2 weeks later.  This continued well into the mid-2000s and probably until he was medically forbidden from smoking.
b) at some point he decided he didn't like watching the tv soap opera "All my Children" and took up collecting poker and gambling chips.
Barbara Callender's Tribute
I worked for Robert for 32 years, up until the time he moved to Chicago in 2016. I was lucky enough to go spend time with him in 2017 and 2018. I saw how happy he was and that made me extremely happy as well. We finally went to movies after all the promises he made to take me over the years, we went grocery shopping where I drove a motorized shopping cart for the first time, and knocked over the wine display needless to say my driving days are over. Even though i am not much of a gambler, I enjoyed my time with him in the casino. We ended the night over a bowl of his famous stew.
Robert saw me through my good times and bad times, and I saw him through his sickness as well as his ups and downs of life. I am happy to say that the last 4 years of his life were the best years he had in a long time because of his family. I used to say to him you are such a lucky guy to have all these ladies taking care of you.
I'm going to miss him so much. My friends here and abroad always ask how Robert is doing. Everyone in my circle knew of him. Robert will always be in my heart and when I think of him it will be with a smile and lots of love.
Goodbye Mr Robert Eisenstadt. Rest In Peace.
Bert Eisenstadt's Tribute
I was in touch with Cousin Robert off and on for decades. Long ago I actually worked for him doing odds- and- ends office work for a few months in "The Store" — Eisenstadt Management, the family realty office on Church Avenue in Brooklyn that Grandpa Morris and Grandma Mary, and subsequently the Eisenstadt brothers, ran for many years. He really only hired me because I needed money while I was in grad school, though the office needed plenty of assistance; he also lent me a small amount which he refused to accept back. As many of you know, he was enormously shy on the one hand, and quite sweet and loquacious on the other. I'm so glad that he overcame his shyness and came to my family Passover Seders a number of times, and I was always so disappointed when he declined.
I am deeply heartened to hear that his last years, living with family in Geneva, were spent feeling happy and loved.
Robert is the first of my generation to leave this life. I hope with all my heart that in some way he's with the four brothers– his dad Herbie, mine Arthur, and George and Bertram, once again.
Charlotte Turley's Tribute
When my grandma, Nancy Joerg, first brought up the idea for Uncle Bob to move to Illinois due to his many health issues in 2016, I was so happy that I would get to know my Uncle Bob. It took a while to get him to move here, but once he did he quickly became an amazing friend to me. He would give me rides on his walker up and down the hall to get in his exercise. My Uncle Bob was a great man. He always brought fun to whatever we were doing. He taught me to have fun in life no matter what.
Karen Leda Eisenstadt's Tribute
Robert – I wish I had known you better. I hope you have everything you need: Love, Peace, and Freedom from pain.
Charlene Sweeney's Tribute
I loved meeting Uncle Bob! His personality sparkled and his inquisitive mind made him fun to spend time with. I only met him late in life, but he is an inspiring example. I liked the way he had his condo set up…he obviously enjoyed himself even in the elderly years when life can be tough. I will remember his laughter and joy even when times are tough.
Edie Weinstein's Tribute
Even though it has been over 40 years since I have seen Robert, I have such fond memories of him. I met Robert through my cherished friendship with his wonderful sister, Nancy. She was almost like a sister to me, and Nancy and Robert felt like part of my family.
In fact, my father was so close to Robert that they often went hiking together in the Hudson RiverValley area in upstate, New York. I loved hearing about their wonderful hiking adventures. My father was in his early 70's and Robert was in his 40's when they started hiking. Robert helped keep my father young!
My condolences and love are with Nancy and Walter and their family on the loss of Robert.
Mark Eisenstadt's Tribute
Wherever you now are, cousin, may you be surrounded by loving-kindness, and may you have found peace.
Marianne Jager's Tribute
75 | Amsterdam, Nederlands
Robert was for me a very special e-mail friend for many, many years. Yes he collected casino chips, but also, just like me: little gambling spinning tops. We discussed in the past, almost on daily basis, who would bid on eBay, what price. About tops with mystery letters on the sides we wondered together what they mean, which game rules.
He often asked me to do research about advertising background, because many of those tops were advertisement presents first half last century, almost all over the world. And all those information did Robert put on his website, on of a kind. Many of my tops are also on his website.
Via Robert, collectors got to know each other. He was the centre, very important for us.
There is no book about this kind of little spinning tops. His website is used by us, all over the world, as a reference book, to find out what excist, what rules, in what kind of boxes, date, country, measures, prices in the past.
I knew he suffered multiple health issues. Once he told me all, ending with: "but for the rest I am Okay". I was very relieved that he moved to Illinois, safe and cosy next to his family. Before I was worried if I did not get any mail from him for days.
Robert promissed me his website https://www.antiquegamblingchips.com/putandtake.htm will stay forever' after he would be gone. He had agreed that with his family.
I am very pleased to have known him. I miss him dearly. I have a problem to realize this longtime friendship now ended, I can never, never contact him again and will never again receive challenging questions I have to answer. Robert was for me a dearly fixed point in my life as a collector.
It will be comforting to his family that Robert was so loved and important, not just to them.
May he rest in peace.
Bruce and Helene Barnett's Tribute
We didn't know Robert except through stories and memories shared by his sister, Nancy, and his brother-in-law, Walter. Family is very important to them.
Robert was given the attention and care he needed due to his devoted family. His sister, Nancy, and his brother-law, Walter, were truly devoted to him as well as his extended family of nieces and nephews.
We wish the entire family comfort, peace, and love in the days to come.
Marc & Carol Olsen's Tribute
We got to know Robert right after he moved to Geneva from Brooklyn. Nancy had asked Carol if I might be interested in helping Robert organize his chip and antique collection. Me being a woodworker said you bet, I'm in! WOW, was I ever impressed!! I have never seen such an extensive and meticulously recorded collection of rare artifacts!
I really enjoyed putting together multiple shelving units in order to display all of Roberts's treasures! When Robert would have an idea about making something that would make his life a little easier he would give me a call and say, "Marc, what do you think about this or maybe that!," I always enjoyed collaborating with Robert on a new project because he kept my mind sharp at all times.
In the short time we got to know Robert, he was a very kind and generous person. He was a wealth of knowledge and information the likes I have never seen before!
It has been an honor and a joy to have gotten to know and become friends with you, Robert!
I will miss your "Brooklyn" accent and dry sense of humor! May you Rest In Peace my good friend and may God bless. ?
David Joerg's Tribute
When I was Bar Mitzvah'd in 1986, my uncle Bob gave me a present that he thought I would enjoy. It was a medical textbook entitled "Post Mortem Procedures". It was every bit as grisly as you might imagine. I LOVED IT. Totally macabre, bizarre, inappropriate — I was shocked and delighted. I read it cover to cover many times and loved it so much I took it to college with me where I showed it to all my new classmates. Thank you, Uncle Bob.
In 1997 I moved to New York City, returning to the region that has been the family's home since Uncle Bob's grandparents Morris and Mary moved there. Uncle Bob lived in New York City as well; it was nice to be able to see him from time to time. He took me out to quite a few good delis. Thank you, Uncle Bob.
In 1999, I started a new business and Uncle Bob generously lent me the funds to help start it. The events that unfolded from there were the key to my future career, so Thank you, Uncle Bob.
In maybe 2002, Uncle Bob showed me eSnipe — a wonderful website that places your bids for you at the last minute on eBay so that your bid doesn't kick off an unwanted bidding war. It was fantastic and fun to feel like you had a secret weapon to help you win the items you wanted to win at a reasonable price. Thank you, Uncle Bob!
I admire many of Uncle Bob's qualities. Uncle Bob was an independent person in every sense of the word. I admire him for it and have been inspired by it. He loved his systems for self-organization, note-taking and personal efficiency. I think if he had been born a little later he would have made an excellent programmer (my profession). He was rightfully proud of his well-earned reputation for dealing with everyone fairly and honestly. Uncle Bob was always real with me — no BS — another thing I admire greatly.
Speaking of his well-earned reputation, that reminds me to take a look at his eBay profile. His handle there is "poker-chips-on-line". eBay was founded in Sep 1995. A year and a half later, in Feb 1997, he joined. So he was an eBay member for 8,504 days. In those 23 years he received 5,356 items of feedback, so nearly one per day. I'd like to share some samples from that feedback to give you a sense of what Uncle Bob did for people.
GREAT service! Went the extra mile! Highly recommend!

Loved the scene in the movie. This are the coolist chips I now own. Thanks!

Thanks so much! Great buyer – helping daughter go on field trip! Fast Payment A

ONE OF THE TOP EBAYERS & A GAMBLING ANTIQUES EXPERT

Great communication. A pleasure to do business with.

Nice historic chip and will be an addition to my other california casino chips.

Love these chips….my first elks chips…..I love the small key mold! Thanks!!

THIS CHIP IS AWESOME! Such a cool piece of gaming history thanks!

Excellent seller. Husband is getting a James Bond Xmas!

Item better than described. Super quick & safe shipping. Top-notch seller!

I received my cards on the 23th June Iam very happy with them thank you Brian

Very good seller, honest and trustworthy! Thanks!

OUTSTANDING!! Perfect in every way!! AS DESCRIBED! Shipped FAST!! SUPER Seller!!

Great communication, well packaged, quick shipment, knowledgeable ebayer!

So excited to get these since I live in Little Rock and go to Hot Springs! Thx.

My brother loved the casino royale poker chips. Thank you

Good guy to do auctions with!!!!!!!!!!

nice addition to my boyfriends collection.

My son loves James Bond, he'll be thrilled. Great item, good price, quick.

prompt delivery good ebayer this set is being gifted to a casino manager

THE REAL DEAL HERE! SELLER SETS THE BAR IN THE FIELD! NEVER A DISAPOINTMENT!
It goes on and on and on. Not only is it more than what I could share with you here — it's more than I can even read! There is a literally overwhelming list of people praising Uncle Bob.
What I want you to take away from this — Uncle Bob brought smiles and satisfaction and enjoyment to thousands and thousands and thousands of people. And me, and all of us here.
Thank you, Uncle Bob!
Tribute video made by Napa Steve featuring Robert Eisenstadt at a gambling chip convention in 1993.
Kevin Drendel's Tribute
I only know Robert in relation to his sister, Nancy, of whom I have the utmost respect as a person and a lawyer. I only handled a couple of matters for Robert, but I was able to get a little glimpse of his world in which family and relationships are blessings to be treasured above all things and taking care and deriving pleasure in the seemingly little things in life is an under-appreciated gift. I regret that I didn't get to know him better. He will be dearly missed.
Toni Baratono's Tribute
When I first met Robert I had an immediate connection to a fellow New Yorker. In the times I spent with Robert, I came to know him as a gentle giant.
Our conversations were from current events to reminiscing on the good old days. Not only were they stimulating, but they also brought fond memories to me and I hope to Robert as well. Robert shared his love and knowledge about his collection of antique gambling chips and all that the subject of gambling encompasses. His great knowledge was amazing. In one of our last conversations, we were going to make plans to go to a local casino. Our highlight would have been to stop at the Golden Corral for a bite to eat. In the times Robert and I shared a meal out, went on a trip to the hospital, and a cruise around Geneva I was awed by his kindness and consideration for me. His enjoyment of the simple things of life was an inspiration. The humorous moments we shared still make me smile.
I will always hold Robert in my heart, knowing he is at peace and watching over all those who loved him.
Bob & Ginger Brown's Tribute
Our sincerest condolences to Nancy and family.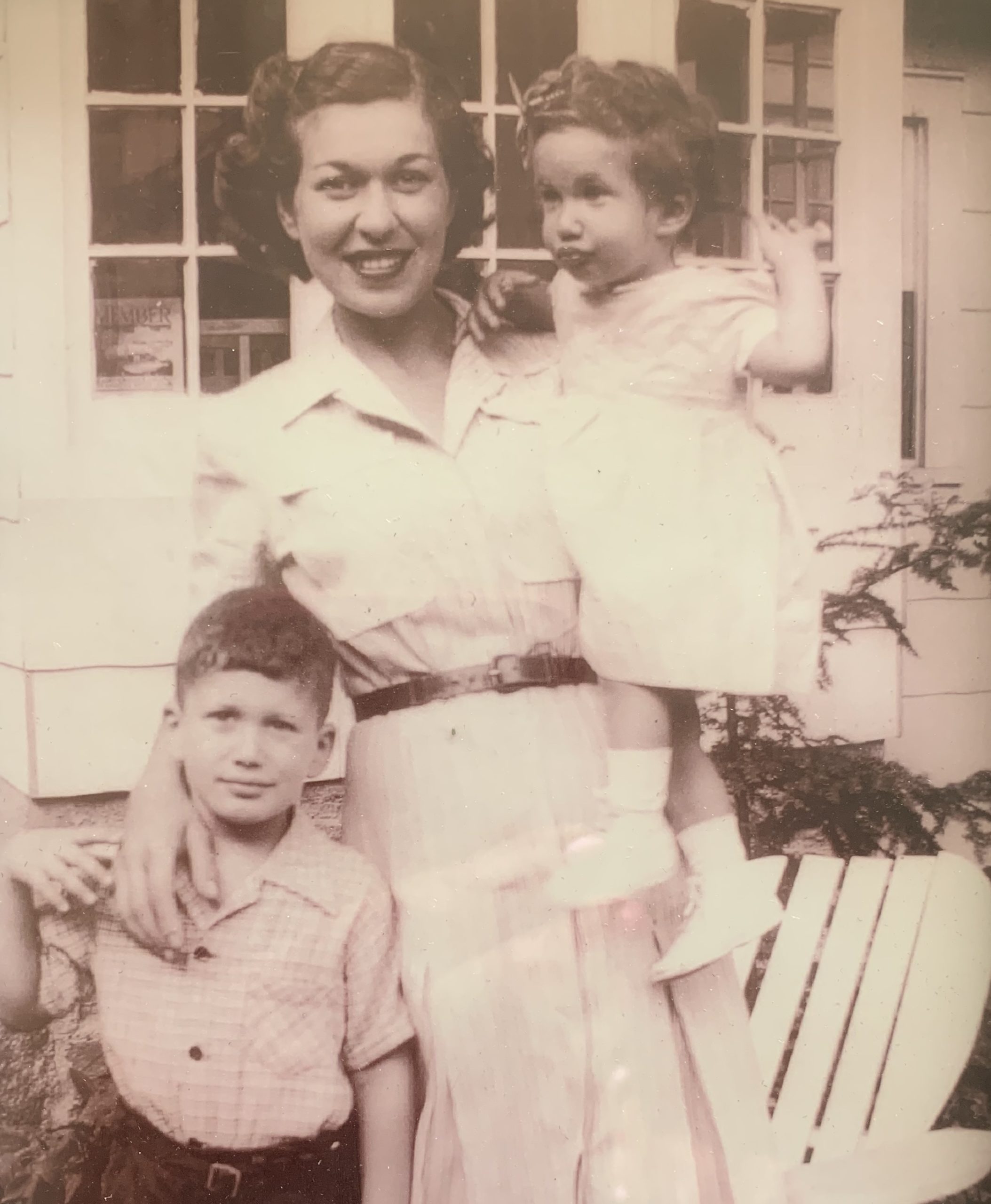 Robert age five with sister Nancy age two in Spring Valley New York summer cottage with their mother Jeanette Wolf Eisenstadt.
Ashley Slovinec's Tribute
I was one of Robert's nurses. I have never met a more devoted and selfless group of family and friends. I enjoyed my visits with Robert and his family so much. He always expressed such appreciation for all the help and care they provided. Walter, Nancy, and Jeanette were such great advocates for Robert and helped me provide the best care I could for him. The bond he had with his family was amazing. I never heard a brother speak so many kind words about his sister. He was such a unique person. I loved hearing stories of his past. I also enjoyed hearing his perspective on current events.
My favorite moments with him were the moments I spent with him and his great-niece Elizabeth. When the two get together the smile never left his face. Both have a great sense of humor and were a highlight of my day. The laughter we all shared was great. Overall, Robert was a very kind, funny, honest, and intelligent man. He will greatly be missed. It was a pleasure to be there for him and his family. Thank you for everyone involved in his care, all of you definitely impacted and promoted quality to his life.
Transitions Hospice
Alexandria Montgomery's Tribute
The first time I saw Uncle Bob's poker chip collection I was amazed. His passion for poker chips was inspiring. I remember sitting in his condo and him showing me different pictures of scenes from casinos and his eyes lit up more and more as he pulled out different things to show me. Uncle Bob was always so kind and he will be deeply missed.
Brad Freeman's Tribute
Unfortunately, I never got to know Robert very well. When I saw him it was in our hallways. He was always friendly and courteous.
Based on the tributes already posted here I missed a lot by not getting a chance to know him better. Rest in peace. Your legacy will live on.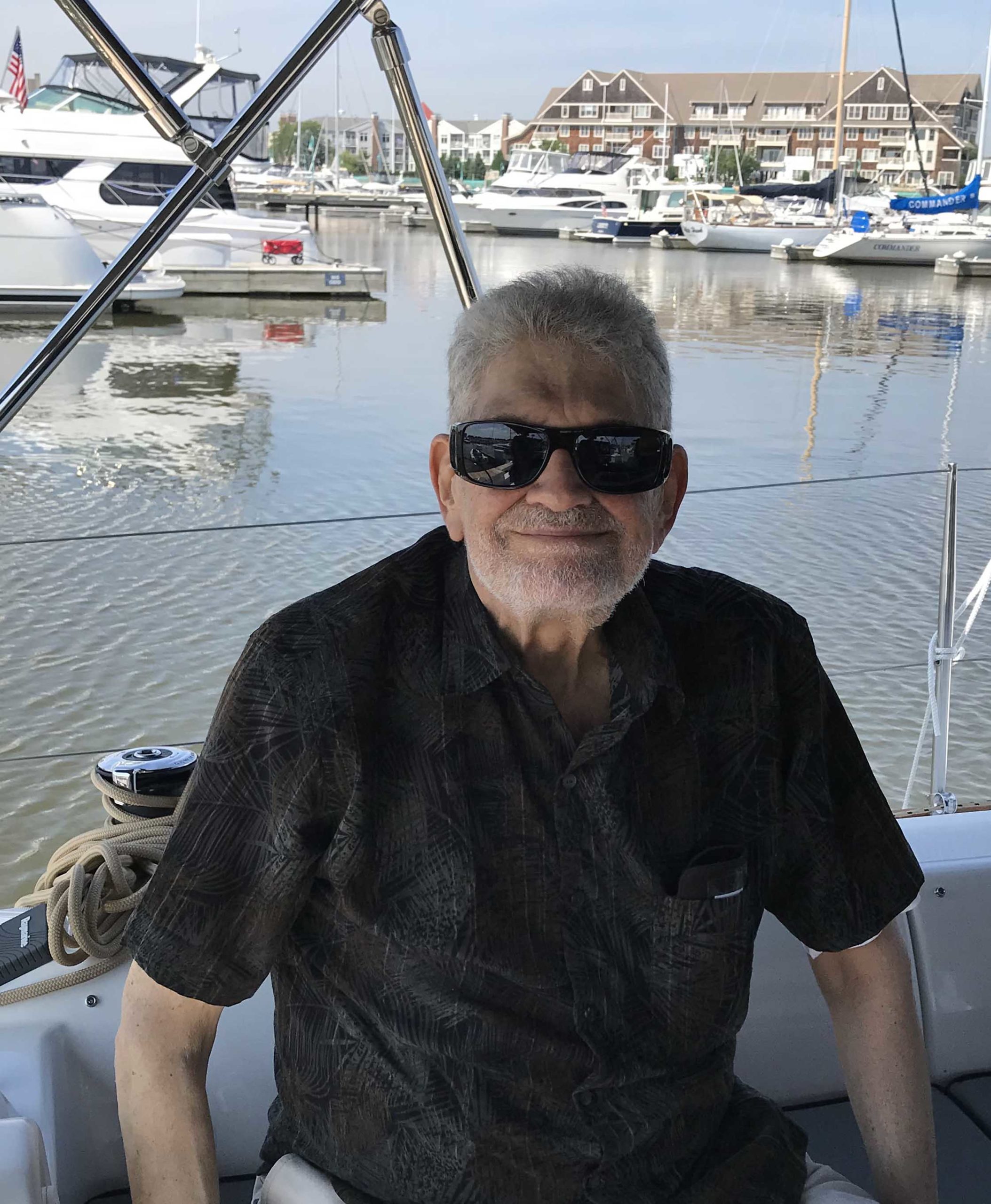 Robert in Racine, Wisconsin enjoying the beautiful Lake Michigan on his brother-in-law's sailboat, Black Swan.
Terry Morgan's Tribute
I have known Robert's sister and brother-in-law Nancy and Walter for several years. I have had the pleasure of being their personal trainer. I met Robert when he moved here. My first impression was that he had a fantastic sense of humor. The small amount of time I spent with him was a privilege. I once took him to a doctor's appointment. An awesome patient, he brought all his notes with him. He also was so funny with his comments to the caregivers. I remember wanting to spend more time around him because I love to laugh.
Thank you, Robert and rest in peace. You were loved by a wonderful family.
Paulette Borota's Tribute
Robert was next door to me. He was so kind. The strength he showed was an example to us all. He loved his family and they did in turn.
He will be missed by all. Love, Paulette
Lynne Scheman Wachsman's Tribute
Nancy and I were best friends growing up. We spent a lot of time at her home. I've known Robert since I was in kindergarten. He was shy and sweet and always patient with us little girls and our paper dolls and drawing contests. He never made us feel like we were invading his space. He was so good to his sister and always looked out for her. May his gentle soul rest among the angels.
My condolences go out to my dearest friend Nancy and her loving family.
Jason Joerg's Tribute
Uncle Bob was one a kind. As a teenager, he generously took me on a trip to the Grand Lina Hotel and Casino in the Dominican Republic. Uncle Bob was a higher roller. As such, he and I had all of our meals provided for free in addition to a beautiful room and drinks.
Uncle Bob gave me money to gamble with and let me enjoy the local beer. He spent time teaching the rules and strategies of craps. He also told me games to avoid since the odds were heavily in favor of the house. Obviously, I was in heaven. Seeing his mind work was fascinating. He keeps incredibly detailed records of every expense for the trip including money he won or lost. He had similar files for every gambling trip he had ever been on! Uncle Bob only played craps. He would not participate in any of the field bets for craps saying they are only for suckers. Uncle Bob knew to only bet on a game that gave him the best odds of winning. He also knew the lowest amount of money he needed to gamble and for how long so he would be invited back for future free trips. He was one of the few people that went to a Casino and beat the house year after year.
In his youth, he worked as a volunteer with the New York – New Jersey Trail Conference. He literally blazed many trails that stand to this day as a memorial to him. Uncle Bob was a quiet thoughtful man with a heart of gold. I will never know another man like Uncle Bob. He truly was one a kind. I will miss him.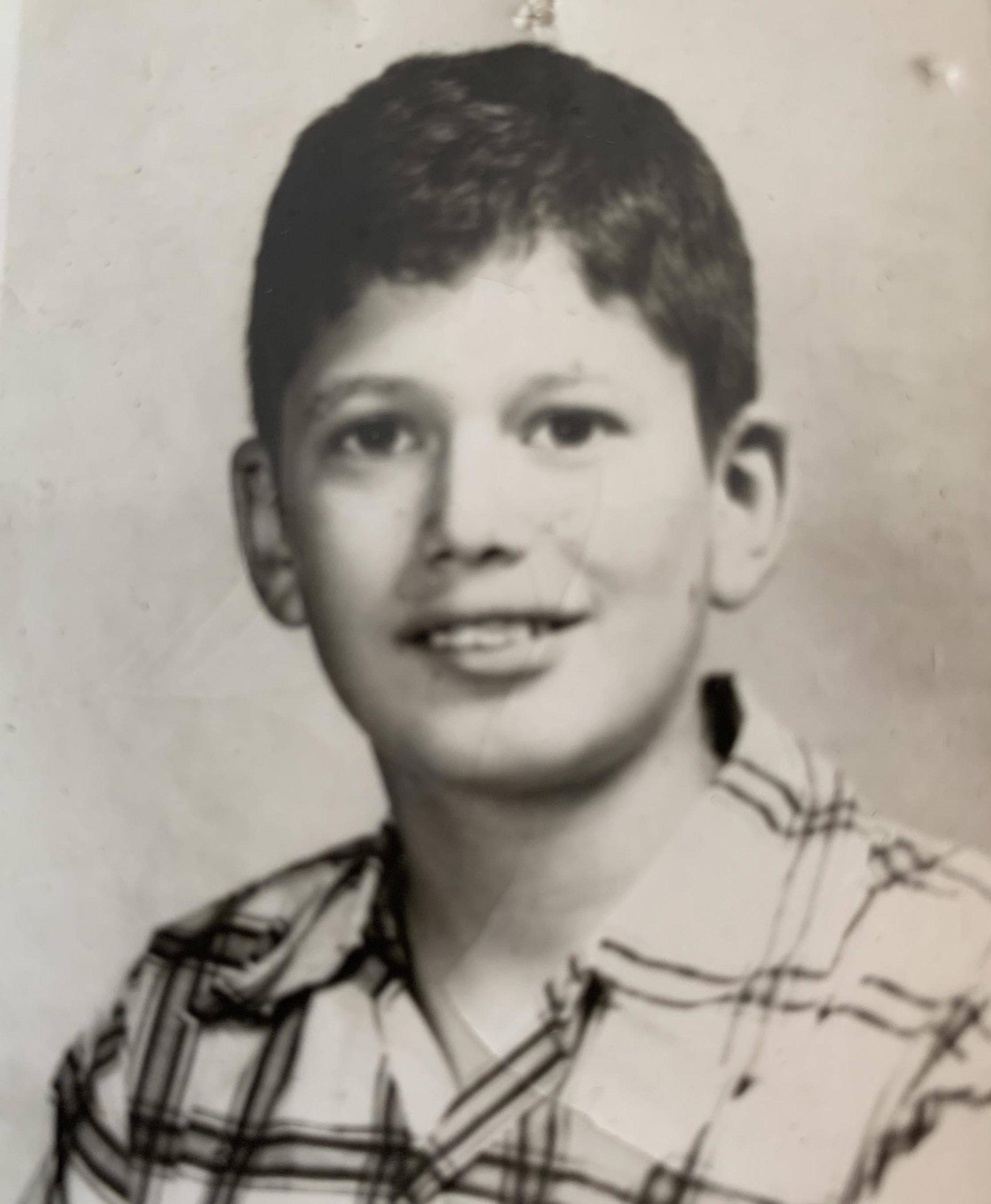 A young Robert Eisenstadt. Around the age of 12. 
Nancy Eisenstadt Joerg's Tribute
My brother, Robert Eisenstadt, brought a doll to the hospital when I was born in Brooklyn, New York. When I was five and he was eight, we moved with our parents to Freeport, Long Island (New York). Our beloved mother (Jeanette Wolf Eisenstadt) was devoted to our family in every way. Sadly she died of cancer when Robert was thirteen and I was almost ten. She was determined to attend his Bar Mitzvah in February 1955, and she did—even dancing with our wonderful father, Herbert Eisenstadt, in celebration of the occasion. Our mother passed away one month later.
Robert and I have stayed in touch over the years. He came to the big events of my life (wedding, law school graduation), and he visited my family out in Illinois from time to time. On one such visit, the condo unit next door to ours went up for sale suddenly. Robert bought it as a future place for him to live (as he was a lifelong bachelor). He bought his Illinois condo unit in 2006. It stayed empty until 2016 when his health problems were piling up. Our grandson Zack convinced his Uncle Bob to drive back to Illinois with him. And so we were blessed with almost four years of living next door to my brother—-four years of talking, laughing, discussing life, celebrating numerous family birthdays and special occasions including my 50th wedding anniversary. We talked over our lives and shared memories, many of which only a sibling would know. We went out to dinner many times when he was feeling well. He and I went out for breakfast at a certain little diner in Geneva because we thought it was like the diners in Brooklyn. We went to the Grand Victoria Casino in Elgin where he played craps and I played the slots. When he was well enough, he very much enjoyed grocery shopping. He liked to cook and was proud of making pizzas with a sauce he made himself. He also loved making muffins.
He had great enthusiasms: buying and selling gambling and poker chip collectibles on eBay, watching old movies, history, politics, current events. When his health permitted, he very much enjoyed going out to movie theaters.
We were so fortunate as a family to have my brother living among us for almost four years. Words really cannot capture the love, goodness, kindness, and generosity of his spirit. And his sense of humor and hilarious observations about life and people.
Robert passed away from many medical issues including congestive heart failure. He passed away peacefully and painlessly with the magnificent help of Hospice and many dedicated nurses. He had many loved ones around him in his condo. We were very fortunate in this Covid-19 Era to have him remain in his condo till the end on June 5, 2020. Rob, we all love you and miss you with all our hearts.
Dan & Dorothy Malecki's Tribute
It's hard to know just what to say at this sad time. We only met Robert a couple of times but felt like we knew him from all of Nancy's Interesting stories!! I think that what sits in my mind most about him was all the family gatherings and dinners that he could attend because he now lived so close! All those stories, smiles, and pictures and fun posts (that Nancy, my dear friend) shared were so heartwarming! I really think Robert brought much love and happiness to the family! Especially his sister …Nancy! My deepest sympathy to all of Robert's family and dear friends. Please know that caring thoughts are very much with you all!
Barbara Eisenberg's Tribute
I knew of Robert through his beautiful loving sister Nancy. They were lucky to have each other to the very end. Rest In Peace.
Lisa Swendrowski's Tribute
I knew of Robert by his sister Nancy, his niece Jeanette and mostly by his great-niece Elizabeth.
Without a doubt, the love these three women have had for him inspired me to love my own family even more so than I already do!
This family is truly one of kind, the nicest sweetest souls I have met by far.
Rich & Josie Grosse's Tribute
We didn't know Robert very well but heard many wonderful stories shared by family members. It was obvious that the family is very special to all of them. The relationships shared with Robert were special, made more so by their loving care all these past years that he relied on their steadfast presence.
This beautiful family reshaped their lives to provide Robert with the time and attention he required. It was a personal sacrifice that did not go unnoticed.  I know Robert appreciated his family and even more, because they performed each task he required with respect for him and love as his family.
His sister, Nancy, was an incredibly devoted sister and those of us who know of her devotion and caring have great admiration for her heart and character.  This entire family is blessed to have each other's love and support.
RIP Robert.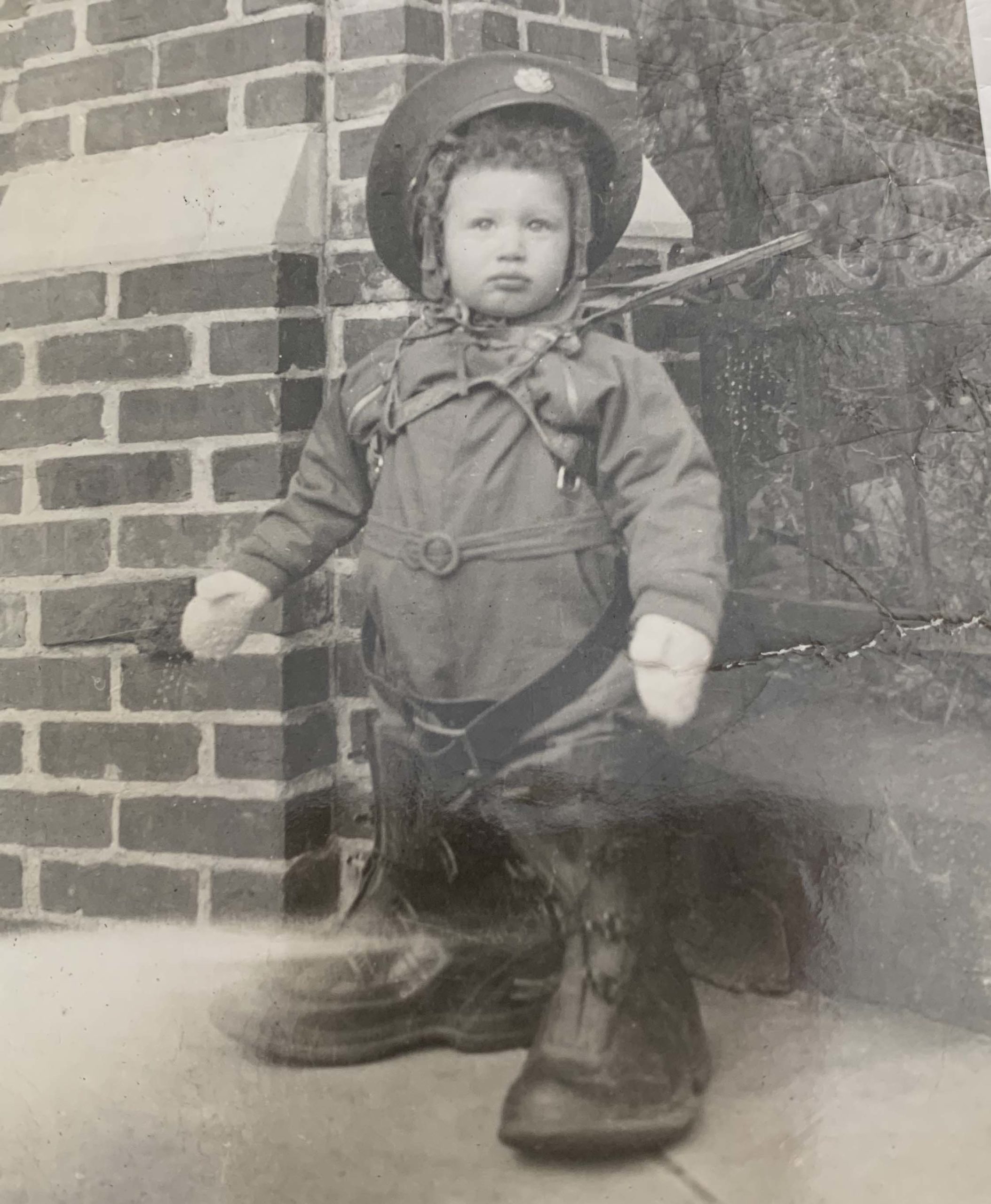 A young Robert Eisenstadt playing in his Uncle Bertram's WWII hat and boots.
Carol Hayes's Tribute
I was a neigbor of Robert. Robert was such a gentleman, always insisting I use the elevator and the mailbox first. No matter what type of day he was having, Robert always greeted me with a smile. I wish comfort for Robert's family in the days to come.
Barry Levittan's Tribute
I was Robert's CPA and friend for almost 30 years. He was an impeccably accurate record-keeper and very knowledgeable of accounting and taxes. He was an astute Real Estate investor and he actually used that skill to help others acquire their own properties. Even after he left NY he kept me on and that type of loyalty is rare today.
He will be missed as both a client and a friend. Once you're gone the best you can hope for is to be well-remembered, and Robert most certainly will be, especially when I take a look at any of the poker chips he was generous enough to give me as presents over the years.
Jeanette Joerg's Tribute
I feel very fortunate to be able to call Robert Eisenstadt my uncle, friend, and mentor.
As a young child, I remember visiting with Uncle Bob. He was so tall! I can recall his wooden walking stick and the smell of cigars in his Brooklyn apartment looking out at the Statue of Liberty. Such a beautiful and patriotic view.
As the years went on, I helped my uncle sell certain poker items on eBay and straighten up his Brooklyn apartment. Uncle Bob was brilliant at cataloging items and keeping incredible historical records on all of his treasured items. I was in awe of his brilliance!
In 2006, he purchased a condo right next to his sister (my mom). He visited over the years but never stayed permanently. As Uncle Bob's health declined, my nephew Zack flew to New York and drove Uncle Bob to his Illinois condo to live permanently around his family. I was overjoyed that my three daughters would get a chance to know their great uncle. Since Uncle Bob never had kids of his own I was concerned about the success of this. He loved my girls and they loved him back. The love they all shared could be felt by all who observed. I've had the pleasure of numerous waitresses, nurses, doctors, and acquaintances tell me how touching it was to see Uncle Bob talk and play with my girls. It still warms my heart that he got to feel so much love and be pampered so well.
The past few years I was his caregiver. Uncle Bob's humor, intelligence, and zest for life made for a lot of fun times. We even had planned to go to Las Vegas this summer to the World's Largest Casino Chip & Collectibles Convention. Unfortunately, COVID happened and ultimately his health declined.
I've only had 4 days so far on earth without my uncle. It is a lonelier world without him to share it with. I miss going to lunch with my friend. I miss him teaching me Yiddish sayings. I miss my uncle who taught me accounting, bookkeeping & cataloging skills. Most of all, I miss being around my uncle who possessed a very genuine heart of gold. My world will never be the same, but I will do my best to live up to the standard of generosity and love he showed to all he met.
Sylvia Eisenstadt Pafenyk's Tribute
Robert was my cousin and I enjoyed an interesting email friendship for the past 20 years. When he still lived in Brooklyn I'd watch the 4th of July fireworks from his balcony. Sometimes we had dinner at the diner near his Cadman Plaza apartment.
He was always clever and hospitable, inviting me to stay over. He also loved the movies and went late at night to 42nd St. where he bumped into my ex-husband. Two unusual men out to enjoy films.
I'm grateful to Nancy, my first cousin, and Walter for enriching his life and caring for him.
What a rare collection of antique poker chips. I was there when he answered calls from other collectors seeking his advice about possible purchases.
Rest in peace Cousin,
xo Sylvia
Wessels & Sherman Law Fim's Tribute
Robert was a good friend of our firm and visited us frequently until his health deteriorated. He was a brilliant man and a world-class poker chip collector, quite possibly the most renowned in the country.
Robert was 78. He was a New Yorker but relocated to Illinois in 2016 to a condo next to Nancy's in Geneva as his health declined. Nancy and her family took excellent care of Robert. He also had hospice care at his condo for the past few months.
It was always a great, interesting, and stimulating event whenever Robert came to the office for a visit. Robert will be missed by all who knew him.
Richard H Wessels, Founder
Tammy Nelson, Legal Assistant
Wessels Sherman Joerg Liszka Laverty Seneczko P.C.  
Dr. Luis Alvarez's Tribute
I am still in shock, for me Robert was fine and we were making plans and next thing I know he is in his death bed and then he dies.
I will really miss him. I had a lot of chippers that I interacted with but he was the only chipper who was also my friend.
If there is anything I can do from here let me know.
I will always be here for his family in any way.
He will never be forgotten….may he rest in peace.
Walter Joerg's Tribute
I admired my brother-in-law, Robert Eisenstadt, in many ways.  He was smart (Phi Beta Kappa) and articulate (just read over his magnificent description of chips and their history). He also gave good advice to his sister Nancy, my wife.  Before Nancy and I got married in 1968 in Brooklyn, NY, I stayed with my future father-in-law, Robert, and Nancy in their apartment in Brooklyn Heights.  Late at night (in the weeks before the wedding) Robert and I would play penny poker.  After three nights of my losing multiple hands of poker, he told Nancy to never let me play poker for money. It's still good advice to this day.

Robert and I shared a peripheral hobby.  He loved and collected gambling cheats, and, as an amateur magician, I enjoyed those marked decks, stripper decks, card cutters, playing card shoes, etc. It's a joy to just look at these devices that give a gambler an edge (cheat).  His collection is amazing.
Meg Milner's Tribute
I was one of Roberts's caretakers and was so lucky to know him for 2 years. He was my friend and I cared deeply for him. He was so kind. Every time we went to the casino, he would watch me lose at Roulette, and then I would watch him lose at Craps! He would never pass up a chance to stop at Burger King on the way home from losing at the casino.
I remember one time I took Robert to the Oberweis Ice Cream place. He got chocolate ice cream in a waffle cone and when he heard it cost $7 his eyes popped out of his head and jaw hit the floor! He said when he was young he could get ice cream for a dime. Even a couple of days before he passed, he wouldn't let me forget that time that I took him to "the most expensive ice cream place", as he called it.
He was stubborn as heck and I admired it. I never really knew how much a young person could learn from an old person until I met him. I will miss my friend but I will always remember what he taught me.
Made with love by Robert's family.